- Bea's two hit shows (Golden Girls & Maude) ended because she decided to leave.
- Estelle Getty (Sophia) is younger than her on screen daughter, Dorothy (Bea Arthur).
- Rue McClanahan is actually the youngest "Golden Girl".
- Each "Golden Girl" won an Emmy Award for their work on the show.
- The Golden Girls were nominated for 57 Emmys. (7 of them for "Best Comedy Series")
- The Golden Girls has two spin-offs: "Empty Nest" and "The Golden Palace".
- According to the E! TV Tales, TGG shares a special coincidence with All In the Family. Both shows are the only two in television history where the main characters all won an Emmy Award.
- Bea Arthur hates cheesecake. Said dessert was featured in almost 100 episodes in the series.
- Betty White was originally supposed to play Blanche, and Rue McClanahan Rose. However, Betty didn't want to play another "sexpot" like Sue Ann Nivens. She was caught off-guard when they asked her to read for the part, but it turned out to be wonderful!
- Bea Arthur is 5' 9", and Estelle Getty is 4' 11". Bea Arthur was 3 months older than Estelle.
- It was Rue McClanahan's idea to give Blanche a Southern accent.
- Rose, Miles, and Angela were all on the Mary Tyler Moore show. Rose played Sue Ann Nivens, Miles was Rhoda's father, and Angela (Nancy Walker) played Rhoda's mother.
- Terry Hughes was considered the 5th "Golden Girl". As he was the director for 5 straight years. Rue McClanahan did not attend his farewell party.
- The first episode of The Golden Girls attracted more than 25 million viewers and was the #1 show that week, beating out the NBC powerhouse, The Cosby Show.
- Bea Arthur referred to Leslie Neilson as being "idiotic".
- Rue suspected that Estelle was intimidated by Bea.
- Bea actually wanted to leave the series after season 5 but was coaxed to stay for 2 more seasons. (thankfully!)
- The 4 girls performed in front of the royal family in London in 1988.
- Marc Sotkin came on as the chief writer on the Golden Girls in 1989 after long time collaborators Barry Fanaro and Nathan Morris decided to leave.
- Coco (The cook) was written out of the show after the first episode because Sophia was a much stronger character and they didn't need him.
- None of the Golden Girls have daughters in real life.
- The Executive Producer Susan Harris suffers from Chronic Fatigue Syndrome.
- Bea Arthur's birth name is Bernice Frankel.
- Estelle Getty suffered from stage fright every Friday night for 26 weeks.
- It took 45 minutes in make-up for Estelle to be transformed into Sophia.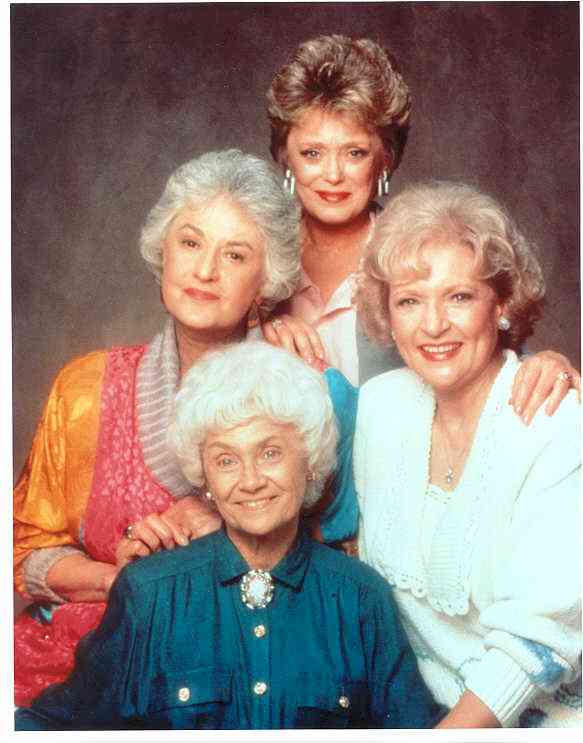 Thank you to our message board members for most of these interesting facts!!